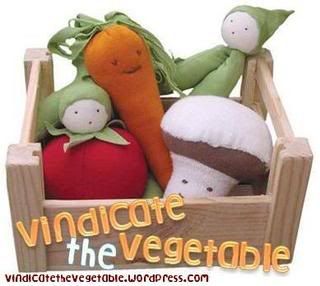 This week's
Vindicate the Vegetable
is Asparagus! This happens to already be one of our favorites. I don't remember always liking asparagus or maybe I'd never had the opportunity to try it until a couple years ago. It grows wild on my grandma's farm. She steamed it for dinner one night and with some cheese on top, I was hooked. I still love to eat it that way.
Recently, I saw on one of the many blogs I read that someone had roasted asparagus in the oven. This is my new favorite way to eat it. We spray the pan with cooking spray, salt and pepper the asparagus and cook until fork tender.
So, I was excited for this week to find something new to do with asparagus. I found a weight watchers pasta recipe and adapted it. This came out amazing and will most certainly be seen again in my kitchen.
I doubled the sauce part of the recipe and thought it came out great. I also just roasted the asparagus and added it into the pasta with the cream sauce. If you stick to the original weight watchers recipe this recipe makes 6 servings and each serving is only 6 points. Obviously, doubling the cream part and adding asparagus changes that. But, I still felt like it was a healthy meal.
Pasta and Asparagus with Creamy Spinach Sauce
Source:
Weight Watchers Recipes
(my changes in blue)
Photo: my kitchen
Ingredients


1 lb pasta (penne or ziti)
I used a long curly spaghetti like pasta
1 lb fresh spinach, stemmed
1 cup low fat cottage cheese
2 cups
1/4 cup grated Parmesan cheese
1/2 cup
1/4 cup low fat milk
1/2 cup
1 pinch ground nutmeg
1/2 teaspoon
1-2 garlic cloves (optional)
2 cloves
salt and pepper (to taste)
1 lb roasted asparagus
Preparation
1. Bring a large pot of water to a boil.
2. Add the spinach and 1 tablespoon salt; cook for about 1 minute.
3. Using
a slotted spoon, remove the spinach (reserve the water for the pasta) and transfer it to a bowl of cold water.
4. Drain and squeeze dry the spinach.
5. Chop it coarsely.
6. Bring the spinach water back to a boil. Meanwhile, in food processor fitted with steel blade, mince the garlic (if using).
7. Add the cottage cheese and blend until fairly smooth.
8. Add the cooked spinach and milk, and blend until smooth.
9. Add the nutmeg and salt and pepper to taste. Transfer to a shallow
serving bowl.
10. Add the pasta to the boiling water, stirring to prevent sticking.
11. Cook the pasta until just tender (about 10 minutes or according to the instructions); drain well.
12. Add the pasta to the bowl with the spinach sauce
and asparagus
, and toss to coat.
13. Sprinkle with Parmesan cheese and toss again.
14. Serve hot.